Some of the Feline Members of the Family
Larry & P.L. don't have human children, but they do have many, many (some say TOO many) furred children. Larry even keeps genealogical records on the cats! Whenever anything goes wrong around the house we always exclaim, "Token did it!" Token was a very special cat, one of two that Larry had for 3 years before he got P.L. He hissed at P.L. for a whole year before he gave in and accepted that she wasn't going away. Token had a very outspoken personality and quite a few Siamese genes: for all that he was a brown tabby he was QUITE the talker! He was 16 years old when he died quietly and quickly of natural causes. We'll miss him, but he continues to live on in our hearts and minds. There'll never be another Token.

These are just a few of our cats...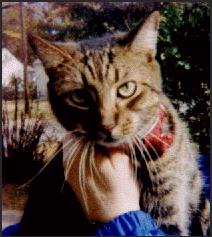 The late Maximum Overdrive AKA "Max" Montgomery
---
The late LeStat Montgomery
---
Sunshine AKA "Good Girl" Montgomery
---
Loki Montgomery
---
Shadow AKA "Gruesome" Montgomery
Our friend Bill Anders named him Gruesome, because he "grew some".
---
Fondly Remembered: Eek, The Tuxedo Cat
---
Loki and Eek
---
It's hard to photograph black kittens well.
Some Interesting Cat Links

to Larry or P.L with any comments regarding these webpages.
You might also like to check out these links...

[an error occurred while processing this directive]
have visited here...

These Photos Scanned Courtesy of Tom Bowerman

WebPage Design & Site Maintenance by: PLCM Screen Designs, Ltd
a subsidiary of Flame Enterprises
Last update on October 18th, 1998I>