Larry's Genealogy Research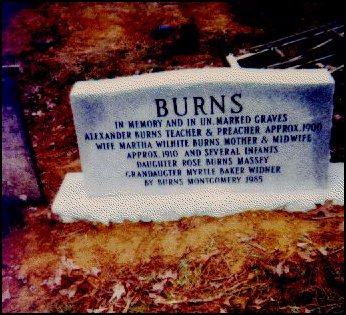 "On-site research is a must for an indexer of genealogical data."
Larry Jordan Montgomery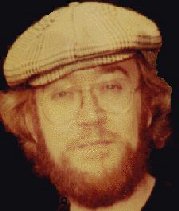 Then and now...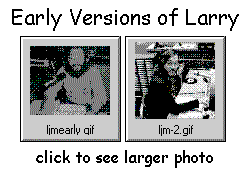 Genealogy...Family History...The Past As Prologue...
I'm actively researching all of my ancestors, direct line and related families. Data base on Brother's Keeper 5.2 is around 13,000 names and rapidly growing. Most research and names from Alabama, Georgia and Texas. MONTGOMERY, BURNS, JORDAN, BOWLING, KILGORE, OWEN, MACHEN names are being actively pursued. Click on options for an idea if you are pursuing similar lines.

Snail-mail info at: 2629 Norwood Avenue, Anniston, Alabama 36201. 205-236-7918 Monday thru Sunday 7:30 AM till 12 Noon Central Time; Answering Machine screens calls; i.d. yourself and I will pick up; if no pick up leave message and I'll get back to you.

Nearly Complete Descendant Directories for Charles Burns Sr. of Henry County, VA; Robert Montgomery of St. Clair County, AL; James Marion Jordan of Haralson County, GA; David Bowling of Haralson County, GA , Robert Greer Kilgore Sr. of Haralson County, GA; James "Jacob" Owen of Chatham County, NC & John Machen Jr. of Middlesex County, VA are available upon email request.

Part of the "fun" of genealogy is sharing the research with cousins. If you think we might be related please contact me.






OR


Click here to download a copy of the Expanded Ancestors for Larry Jordan Montgomery

---
A Miscellaneous List of Genealogical Links:
Acadian Genealogy Homepage

Ancestors Overview

Ancestry's Social Security Death Index (SSDI) Online Search - Over 51

Antique Town Maps for Genealogy and History

Association for Gravestone Studies Home Page

Backward Footprints

Bob Coret's List of On-line Phone Directories for Genealogy Use

Brian's Genealogy Hotlist

Cemetery Listing Association - Home Page

CompuServe's Genealogy Services

Deciphering Old Handwriting

Everton's Genealogical Helper: Web Site

Everton's Guide to Genealogical Resources on the Web

Everton's On-Line Search

Family Tree Maker Online

Family Tree Maker's Genealogy 'How-To' Guide

GENDEX -- WWW Genealogical Index

Genealogy Dictionary

GENEALOGY IN FRANCE

Genealogy in the United States

Genealogy Links

Genealogy Links to Canadian & Other Sites

Genealogy Resources on the Internet

Genealogy Resources on the Web

Genealogy Services Onlline

Genealogy Surname Database Form

GenServ: Genealogical GEDCOM Server System Homepage

Helm's Genealogy Toolbox - Introduction

Home Page

How to Obtain Your Personal Vital Record

http://www.usgenweb.com/

Index of Surnames

John Woodgate's Frequently Asked Questions

LDS Genealogical Information

Link-O-Mania Genealogy Index

List of surname associations

Maine State Archives Web

Maine State Library Information

Mayflower Passengers

mayflower.html

People Chase Ring

Richard A. Pence's Searching Your Family Tree

Roots Surname List -- Interactive Search

S-K Publications: The National GedCom Registry

Social Security Death Index (SSDI) Search
You might also like to check out these links...
Or Visit These Alternate Realities...
P.L.'s Realm of Speculative Fiction
P.L.'s GEOCITIES Forever Knight Pages
[P.L.'s Mirror Site]

Please feel free to send email to Larry in care of plcm@theoffice.net with any comments regarding this webpage.

[an error occurred while processing this directive]
have visited here...
---
These Photos Scanned Courtesy of Tom Bowerman
---
WebPage Design & Maintenance by: PLCM Screen Designs, Ltd.
a subsidiary of Flame Enterprises
---
Last update on November 5th, 1998